Highlights 2018
The 2018 season featured many exclusive concerts as well as top-class soloists and guest conductors.
Our little "Klang-Weltreise" went through Argentina and Armenia, the Balkans and the Baltic States, France and Russia, as well as Austria and Germany.
The focus of the season was the pianist Sebastian Knauer, who gave a guest performance as "Artist in Residence" in Ingolstadt. He convinced as a gigantic "team player" and was thus "a part of the whole troupe".
We were also lucky enough to be the first chamber orchestra to play in the Elbphilharmonie Hamburg. The orchestra will remember this successful concert event for a long time to come.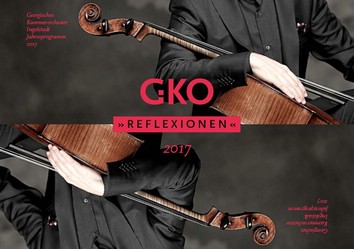 Highlights 2017
"Reflections" - The GKO motto of the 2017 concert season: reflecting or reflecting, considering or considering. Moreover, it is also programmatically about upheavals and upheavals,
about being and wanting, origin and identity, tradition and innovation.
They are eventful times. The GKO, too, is currently experiencing upheavals and upheavals. On the one hand, the GKO is rejuvenating, which is a particular challenge for a traditional ensemble. On the other hand, the orchestra is breaking new ground: an open air on the edge of the Danube, integrating music from rock and pop, is intended to appeal to a different, younger audience.

Highlights 2016
" Frontier crosser " - a more personal season motto can hardly be imagined. The musicians of the Georgian Chamber Orchestra Ingolstadt were also border crossers when 25 years ago, after their guest appearance at the Schleswig-Holstein Music Festival, they decided not to return to the turmoil of the civil war in Georgia, but to stay in the West for a while. Through the mediation of Audi, they finally found a new home in Ingolstadt - thanks to the generous support on site. In view of the current streams of refugees, these memories are all the more present. And all the greater is the gratitude of the musicians.

Highlights 2015
From now on, the GKO will present an outstanding soloist personality to the Ingolstadt audience as "Artist in Residence" every year. This institution, which is rightly widespread in the music world, enables the listener to experience different facets of the same artist within one season. On the other hand, it provides an orchestra with the perfect framework for dealing with a personality in a particularly intensive way. We are proud of the fact that in 2015 we succeeded in winning none other than the great violinist Julian Rachlin as "Artist in Residence".

Highlights 2014
A caesura, an opportunity to pause, to celebrate, to look back: 50 years is this unusual Georgian, Bavarian, Ingolstadt orchestra now. Its history is so changeable that it hardly fits into a single life. Perhaps that is why this orchestra actually has two fully valid lives. For the first 26 years it had its seat in Tbilisi, the capital of Georgia, then it moved to Ingolstadt, where it has now found a second home for 24 years.